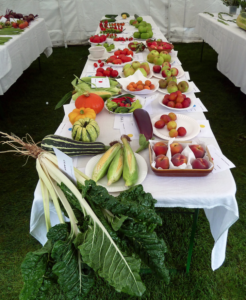 Our next exhibition in the Challis Museum will be entitled 'Back to School' – dates to come. We would like to request local educational artefacts of all sorts for this exhibition. If you have anything to loan, please contact our Chair Rosie Phillips on 560816 or chair@challistrust.org.uk for further details. The exhibition cannot be put in hand just yet due to work being carried out on first floor.
The craft group meet in the house on alternative Wednesdays: see our noticeboard for dates and times.
The Challis Garden continues to develop into a haven of tranquillity. The volunteers who come and work each week are to be commended and of course Ray Reeve, Head Gardener, who oversees all. Thee opening times are: Tuesday, Thursday, Saturday 10am to noon; Sunday in summer time 2pm to 4pm, then when the clocks have gone forward in winter, 1pm to 3pm. Our beautiful 2016 calendar is now for sale from the summerhouse on open days, price £6.
Our Horticultural Show on 5th September was a tremendous success, with more visitors and entries than previous years. The jazz band, silent auction and teas with homemade cakes contributed greatly to its success, as did our Craft Group and Greener Sawston.
The Challis trustees give our heartfelt thanks to all who took part and to the many visitors who came to enjoy the day. We would also like to mention the Sawston Scouts who put up and took down our marquee and also Sawston Youth Group, who delivered and then collected tables for the displays. [See the back cover for photographs of the event.]
Our next event is the Children's Halloween Activity morning on 31st October from 10am to noon which we're sure will be its usual success. Children, please bring an adult with you. Entrance free. Tasty refreshments will be available for all for a donation.
We will also be taking part in the Winter Fair on Friday 11th December. Please come and join us for mulled wine and mince pies in the Challis House, with craft gifts, home-made preserves and pickles on sale. We shall be delighted to see you all.
Sheila Blackwell
Published in Sawston Scene, October–November 2015