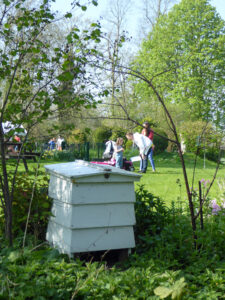 It was wonderful to see so many people attending our first event of the year, the Children's Easter Activities Morning on 16th April. Graced by some good spring weather and lots of happy children, it was a joy to be there. Great, too, to see so many new families joining in. All the activities were well attended, especially face-painting, decorating flowerpots and the nature trail. Thank you to everyone who came and to the many volunteers for helping out. Special thanks for those who contributed to the Ukraine appeal by painting pebbles in the national colours: your donations raised £41 for the DEC Ukraine fund. The pebbles have been arranged as a spiral in the garden – do have a look to see if you can find yours.
There are a number of events coming up in the next period. In June, we are mounting an exhibition in the Challis House as part of the village celebrations for the Queen's Platinum Jubilee from Thursday 2nd to Sunday 5th. This celebrates the life and reign of our queen, featuring her coronation and previous jubilees, as well as those of Queen Victoria and King George V. Royal visits to Sawston and Sawstonians who have met the queen or have received royal honours are also featured. A number of MBEs, OBEs and knighthoods have been bestowed on Sawstonians – come and learn more about them. The exhibition is open from 10am to 12 noon on 2nd to 4th June and from 2pm to 4pm on 5th June. After the Platinum Jubilee holiday, the exhibition will continue every Tuesday and Saturday from 10am to 12 noon throughout June. The garden will also be open when the exhibition is running.
In July, the Challis Garden will open along with four other Sawston gardens in support of the National Garden Scheme. This village group opening is on Sunday 3rd July from 1pm to 5pm. Homemade tea and cakes will be served in the Challis Garden from 1.30pm to 4pm. More details are given on page 7 of this issue.
We are delighted to welcome back Half Cut Theatre to the garden on the weekend of 9th and 10th July for three performances of Shakespeare's Much Ado About Nothing. Following their entertaining – if not hilarious – visits last year with Twelfth Night and Treasure Island, this is likely to be very popular. Do book early – see page 27 for details. The gates open an hour before each performance, so there's time to socialise and picnic beforehand. Please bring your own seats. Cold drinks will be available in the garden.
Spring seemed to arrive early this year, spurred on by early warm weather. However, the exceptionally dry conditions in April and early May set back early growth and some plants suffered from some late frosts. Fortunately, the fruit blossom appears to have escaped any damage and has set well. We look forward to some good fruit crops this autumn. Our vegetable plot is looking good now, with beans, peas, potatoes, garlic, beetroot, carrots and leeks well established. Barring any cold weather, more sensitive crops (tomatoes, courgettes, salads, runner beans) will be planted out in late May.
The garden team have been busy raising bedding plants, now being hardened off in cold frames before planting out in the herbaceous beds, including begonias, geraniums, echium, cosmos, zinnia, salvias and rudbeckia. Most hardy perennials are developing well, though our dahlias appear to be rather late this year. The rainfall in mid-May should help them to catch up. We are very occupied now keeping up with weeding, mowing, strimming, watering and manuring. It's a busy time of the year, requiring lots of labour. Fortunately, we have a lot of enthusiastic volunteers – but there is always room for more. If you are interested in joining our gardening team, please come along for a chat.
Early build-up of caterpillars is causing some damage. Spindle trees are infested with 'webbing' caterpillars of the spindle ermine moth. These are controlled by hand-picking and squishing – definitely not for the squeamish! A few of our box bushes are being attacked by box moth caterpillars, a new invasive species in the UK. Control measures include power-spraying to literally knock the caterpillars off the branches and spraying with a biological insecticide, a bacteria that infects the caterpillars – a better option than using chemicals. Hopefully, this will keep the problem under control.
Observant passers-by will have noticed that we have applied mulch to the front garden on the High Street. We have used strulch, a mineralised straw mulch much lauded in the gardening journals. This helps to suppress weeds, retains moisture and gradually releases minerals to the soil, as well as being a natural deterrent to slugs and snails. We haven't used it before, but it sounds good: let's see how it performs. We hope you have enjoyed the displays of daffodils and tulips in the front garden that will improve with time. The colours chosen for this planting compliments the laburnum, which is in full flower at the time of writing.
Mike Redshaw
Read More