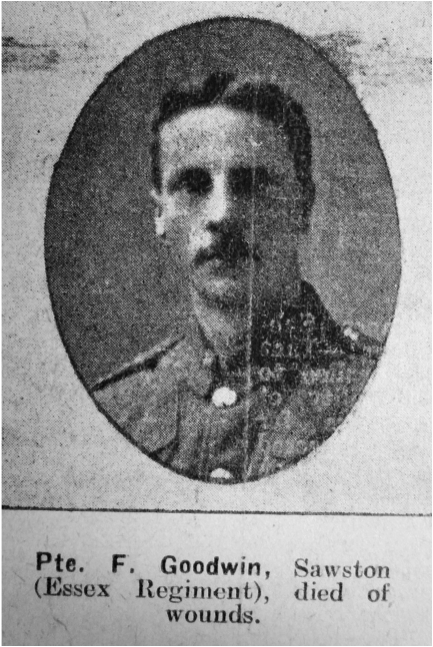 Private Frederick Goodwin, Service Number 25258
1st Battalion Essex Regiment
Died 5th April 1918, aged 34, baptised 6th September 1885
Doullens Communal Cemetery Extension No. 1, France: Plot 6, Row E, Grave 54 (Reg. France 62)
Fred joined the army in May 1915, went to France in 1916, was wounded in the chest in August 1917, came back to England where he was in a Birmingham hospital for some time. He went to France again in March 1918.
Third son of Robert and Maria Goodwin, High Street, Sawston
Travis Teversham writes: Fred Goodwin, an employee with fifteen years' service at the local paper mill, his wage just before he joined the army was 10s. (50p) per week. He was a little man and liked by everyone. Always smartly dressed with a buttonhole for the weekend. For several years he was a goal keeper for the Church Institute F.C. and valiantly faced heavy barging by centre forwards twice his size, in the days when goal keepers had little protection from direct attack. Truly 'Pambo', as he was called, was in heroic mould and may God rest his soul.