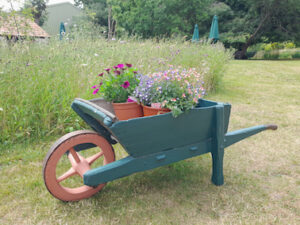 June and July proved to be a very busy period for the Challis Trust, starting with the Queen's Jubilee Exhibition at the beginning of the month, which has proved to be very popular. To date, more than four hundred visitors have enjoyed the exhibition in the Challis House, with a lot of enthusiastic and constructive feedback. If there is sufficient ongoing interest, we may extend the exhibition into August. Thanks to everyone involved in setting this up and to the many people who paid us a visit.
On the first Sunday in July, the Challis Garden joined five other gardens in the village to open for the National Garden Scheme (NGS). The weather was kind and some hundred and eighty people toured the gardens. It was very pleasing to see two new gardens this year, including a late entrant in Wynemares at the bottom of Common Lane, adding to the mix. The event raised a very satisfactory £1,330 for the ngs, which relies entirely on donations from garden visits for its income. These funds are distributed to a number of important caring and nursing charities, including Marie Curie, Macmillan Cancer Support, Hospice UK, Carers Trust, The Queen's Nursing Institute and Parkinson's UK. The ngs raises over £3 million annually and has already recorded over £2 million so far this year, so may be in for a record sum, which is great news. The Challis Trust are very pleased to support this charity.
We are always looking for new gardens for the Sawston Village group. If any Sawston gardeners are inspired to join us, please contact Mike Redshaw at mjredshaw@hotmail.co.uk. New gardens can join at any time, but to have your garden listed in the ngs annual 'yellow' handbook for 2023, you need to complete registration by the end of August.
We were delighted to host the Half Cut Theatre group again on 9th and 10th July, for the end of their summer tour of Shakespeare's Much Ado About Nothing. It was a very enjoyable and professional production, from a talented young group. They entertained about four hundred people with three performances over the weekend in glorious summer weather – perhaps a bit too hot for some! The Pimms stand was very busy. We look forward to them returning next year with another 'half-cut' Shakespeare offering.
Another event to look forward to is a concert by Newmarket Town Band on Sunday 7th August from 2.30pm to 4.30pm. Gates open as usual at 2pm. Refreshments will be served by the Royal British Legion, who are sponsoring this event. This is the first time we have had a town band performing in the garden: we hope you enjoy the music and the weather behaves itself. Please bring your own chairs, if possible. Picnics welcome.
The Trust has decided to continue combining our annual fete with the Horticultural Show in September, rather than running separate events. There is a wide range of classes to enter – whether you bake, grow your own fruit and veg, arrange flowers, make preserves, knit, stitch, sew, paint or take photos – there is something for everyone. We are particularly keen to see more entries from children: there are five classes in two age groups – seven years and under and eight to twelve years old. The show takes place on Saturday 3rd September, with staging from 9am to 10.45am, judging at 11am, open from 2am to 4.30pm. Entry is £1 per adult. The schedule for the show, including the list of classes and entry forms, will be available from the Challis Garden and dispensers at the two allotment sites, or online at www.challistrust.org.uk. Please return entry slips to the Challis Garden or online by Thursday 1st September – late entries will not be accepted. Don't forget our popular auction of produce, immediately after the trophy presentations. Do bring plenty of cash as we can't yet accept card payments!
Our garden plants are looking somewhat stressed at present, due to the long dry spell and exceptionally high temperatures in mid-July. The conditions mean less mowing and weeding but lots of watering. Fortunately we have a borehole on site and can water freely. If current trends continue in the future, we will have to consider installing an irrigation system.
Our garden volunteers and museum stewards, along with the trustees, have worked very hard to maintain the garden to a high standard, stage a very professional exhibition, run events and host visiting groups. Sincere thanks to everyone involved in making the Challis House and Garden such an asset to the village. That said, we could always use more help; if you are interested in volunteering with us, there are opportunities for garden volunteers, Sunday stewards, archivists, event helpers, museum stewards, caterers and cleaners. Do come along for a chat to see how you could help.
The Challis Trust is due to receive a donation of £1,000 from Sawston Fun Run, which we gratefully acknowledge, as a contribution to improving disabled access into the garden. Mike Redshaw
Read More