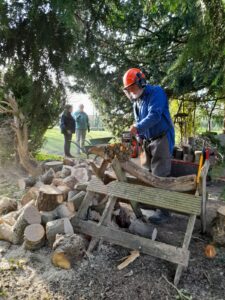 We were lucky to avoid any serious damage in the garden during the winter storms. Fortunately we had some tree work carried out at the beginning of February to remove over-extended branches that might well have come down in the strong winds. Our tree surgeons will be back again to complete their work pending approval from the local Tree Officer. The winds did dislodge a drone that had been stuck in one of the large sycamores for at least three years – it hasn't been spotted since. Thank you, Storm Eunice!
The relatively mild weather has allowed us to keep up with seasonal tasks in the garden, so we are well on top of the work. There were excellent displays of snowdrops, aconites and crocuses through February and March. Daffodils should be at their best in April, followed by tulips and crown imperial lilies in May. Hellebores are also showing well and will continue into April.
Winter and spring-flowering shrubs performed very well again this year, emitting their wonderful fragrances as you walk through the garden. The dogwood stems appear to be breaking into leaf very early, in March, and will need to be cut back soon. Do drop in to have a look at these colourful displays before they go. You can also enjoy the spring blossom on ornamental cherries, plums, damsons and apple trees.
On warmer days, look out for brimstone butterflies, bumblebee queens and – a favourite of mine – the hairy-footed flower-bee. This one looks like a small bumblebee but is actually one of our native solitary bees. The males and females are very different in appearance. They fly fast and low over the ground vegetation, feeding on early flowering plants such as Pulmonaria, yellow archangel and comfrey. Look for these along the winter/spring border.
There are plenty of other signs of spring to be seen. Birds are clearly showing signs of nesting now, especially thrushes, tits, goldcrests, wrens, woodpeckers, doves and pigeons. Many of these nest in the garden. Summer migrants will start to arrive soon, including blackcaps, chiffchaffs, swallows and house martins. There are lots of newts in our pond, but we rarely see any frogs or toads, which we would like to encourage. Fingers crossed they breed this year.
The wildflower meadow in the middle of the main lawn will be marked out and fenced off at the end of March to allow the flowers to regenerate. This is a real focal point in the garden, with a succession of native wildflowers and grasses through the summer months, attracting many butterflies, bees and other pollinators. We have recently planted a small section of native hedgerow plants – hawthorn, blackthorn, spindle and hazel – along the south boundary, which in time will provide shelter and food for rodents, amphibians and foraging insects and a place for birds to nest.
Looking forward to our annual events, first up is the Easter Saturday Children's Event from 10am to 12 noon on 16th April. All the usual activities will be there, including an Easter-themed trail, crafts, picture painting, face-painting and garden games. Come along and join in the fun. For the adults, M C Teas will be serving tea and cakes from the house plus soups from Andy's kitchen.
We are planning an exhibition in the house to commemorate the Queen's Platinum Jubilee, which will be open over the four days of the extended holiday period. If you have any memorabilia of the Queen or her coronation or wedding, we would be pleased to display these in the exhibition. We would also welcome any recollections and photographs from Sawstonians who have met or seen the Queen. Please get in touch if you have anything we could use.
The main garden gate is still out of use due to the ongoing building work, and will be for the foreseeable future. We apologise for any inconvenience this is causing but please continue to use the side gate directly behind Billson's.
There is still some stock of seasoned firewood for sale from the garden. Hopefully we have seen the last of this winter's cold spells, but if you do need any logs please let us know. We are busy stocking up with fresh material for next winter, which will gradually dry out over the summer months. Remember we always have honey, preserves, fresh produce, notelets, tea towels and plants available. Do check what's on offer next time you visit. We look forward to seeing many of you in the garden this year. Mike Redshaw
Published in Sawston Scene, April–May 2022
Read More