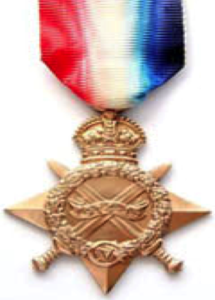 Private Leonard J Ricketts, Service Number 20264
10th Battalion Alberta Regiment of Canada
Died 26th April 1915
Ypres, Menin Gate Memorial, Panel 24, Reg. MR29
Eldest son of Tom and Isabella Ricketts of Sawston
He was reported missing in the heavy fighting around Hill 60, near Ypres, Belgium. Time of his death was given as 26th April 1915. He emigrated to Canada just before the war and came back with the Canadian Army. He landed with the Canadian Expeditionary Force on 14th October 1914.
The following is taken from Forces War Records:
"Given the information we have available, it is very possible that L J Ricketts was awarded the 1914-15 star campaign medal of the British Empire for his service in World War One.
This Star is identical to the 1914 Star in every respect except that the centre scroll bears the dates "1914-15" and the two small scrolls bearing "Aug" and "Nov" are omitted.
He would also have received the British War Medal and Victory Medal, as it was not awarded singularly. These three medals were sometimes irreverently referred to as Pip, Squeak and Wilfred. With Pip representing either this medal or the 1914 Star, only one of which could be awarded to a soldier, Squeak represented the British War Medal and Wilfred represented the Victory Medal."