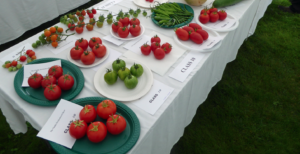 The garden has benefitted greatly from the cooler, wetter conditions this summer, giving an explosion of colour in the main flower garden that should last well into autumn. Dahlias and bedding plants have flourished especially well. We have experienced a glut of produce, with very good crops of beans, courgettes, plums and apples. Many of our regular visitors (and volunteers!) have enjoyed the fruits of our labour. Well done to the garden team for maintaining the garden and lawns so well in a very challenging year.
In August we were very pleased to welcome a few local groups to the garden during 'Gardens & Health Week'. This is a new initiative by the National Gardens Scheme to give the opportunity to people with social and medical welfare needs to visit gardens for their health and well-being. Groups from Camsight, OWL and Sing to Remember – over sixty visitors in total – enjoyed spending time in the garden. We hope these groups will visit us again and we will invite others to join in next year. The more people that use the garden the better – that's what it's for!
Summer culminated in a very successful Horticultural Show on Saturday 2nd September, helped by some glorious late summer sunshine. We saw record numbers of visitors this year and many more exhibits in the show. Many thanks to all who participated to make this a really enjoyable afternoon. And thanks also to our judges, stewards, MC Teas crew and especially to Andy Jackson for auctioning the produce. The Pimm's Tent and the beekeeping stand proved to be very popular. We plan to have the beekeepers as a regular attraction (I declare an interest!).
Thanks to our patron Jennifer Crompton for awarding the trophies this year. The Trustees Trophy (for the most points in the fruit and veg section) was closely contested,with Jeffrey Butler (16 points) just pipping at the post Kamla Wells (15) and Michael Hendry (14). However, Michael and Kamla Wells were clear winners for the Chair's Trophy (for the Sawston family with the highest number of points in show). Other winners were:
Frank Matthews Trophy (best exhibit in domestic classes): Alison Kent
Mary Challis Trophy (best floral exhibit): Graham Searle for a superb single dahlia.
WI Trophy (best handicrafts exhibit): Audrey Jackson for an excellent painting.
Sue Reeve trophy (best exhibit in 8-12 years age group): Kennan Lawrence.
John Falkner Trophy (best exhibit in 7 or under age group): Sophie MacFarlane
Norman Carver Trophy (best exhibit in Show): Alison Kent for her stunning decorated cake.
Congratulations to all the winners and to everyone else who picked up a prize !
The next date for your diary is Saturday 28th October for the 'Spooky Saturday' Hallowe'en event. All the usual activities. Check the Sawston Scene diary and look out for posters in the village.
Our third exhibition 'Back to School' concluded in August. Many Sawstonians came to view the exhibition, which certainly stirred old memories. We gained a lot of useful information from talking to visitors, helping to put names to faces and fill in some blanks in the records. We hope everyone enjoyed seeing the old photos and documents, a long away from the light of day. Thanks to everyone who donated material for the exhibition.
Renovation work and decorating continues on the second floor of the house. This should be completed in the next few months, providing rooms for office space, a library, meeting room and archives. The Trust can then move forward with its stated goal, in keeping with Mary Challis' wishes, of establishing a museum for Sawston. We are nearly there.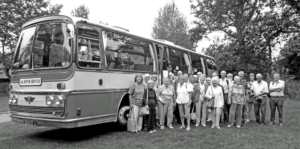 A group of our volunteers enjoyed a day's outing to visit Bury St Edmunds and Fullers Mill Garden, in West Stow, in late August. Transport was provided by Tim Phillips' classic coach 'Lady Sarah'. A well-deserved reward for all the work the volunteers do in the house and garden. The Trust would not function without volunteers; the trustees are very thankful for their loyalty and support. Same again next year?
I can't finish without mentioning something about the wildlife in the garden. One of the volunteers disturbed a badger one morning. It (the badger!) hasn't been seen since, and presumably found its way out. Badgers would not be welcome as permanent residents, but nice to have seen one. Our resident pair of treecreepers have appeared again recently – on the gingko tree near the summerhouse. Let's hope they stay and breed again next year. Mike Redshaw