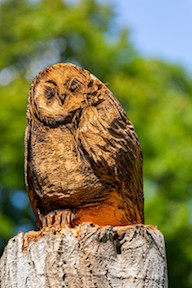 It has been a delight to see so many people using the garden during the past few months to meet up with friends and family, as the Covid-19 situation limits the opportunities for travelling further afield. As well as our regular visitors, we have also welcomed many new faces to the garden. As one of them commented recently, it really is a hidden treasure in the centre of the village. If you haven't been to the garden yet, please do drop by to see for yourself. There are lots of different areas and plantings to view, with plenty of seats and benches to rest on. Always something new to see or to revisit favourite parts, or to find a quiet spot to read or chat.
We are pleased too that some local groups have been using the garden for various activities or to hold meetings, as their usual meetings places are still closed. There are regular sessions of tai chi, Pilates, sketching and painting, and the Sawston Steel Pan Band have been practising here. The Royal British Legion, Women's Institute and Sing to Remember also hold regular meetings and social gatherings. More recently, Cambridge Rare Diseases Network – a support group for families affected by a range of very rare conditions – have met in the garden. They had had great difficulty sourcing venues for outdoor activities and have been delighted to 'find' the Challis Garden.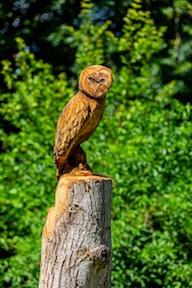 In view of the ongoing Covid situation and the recently announced restrictions limiting meetings to a maximum of six people, we ask visitors to respect these guidelines when using the garden. There are notices on each table to remind everyone to keep to the 'Group of Six' rule and to use the hand sanitisers. Thank you for your cooperation.
It is disappointing that we haven't been able to hold any events this year, and have now decided to cancel our popular Spooky Saturday Hallowe'en event. Under the circumstances, it would be impossible to maintain social distancing and maximal group sizes, given the nature of the usual activities and lots of excited children. A great pity, but we feel it is the right decision.
Our 'Name the Owls' competition has attracted lots of entries so far. We hope to get more entries from children once they receive their entry forms at school. A shortlist of names will be selected for a public vote and the winners will be invited to a small socially distanced naming ceremony, most probably on 31st October. Good luck to everyone who enters. If you haven't seen our owls yet, do come and have a look to see what the fuss is all about!
The garden has benefitted from an upsurge in volunteer numbers as well as visitors in recent months. Many new volunteers have offered their time to help in the garden, for which we say a very big thank you. This has enabled us to keep up with garden maintenance and also to tackle a few long-outstanding tasks. And there's always more to do!
Like everyone else, we have had bountiful crops of fruit this year – especially our plums, gages, damsons and apples. Andy Jackson (of 'Andy's Allotment') has excelled himself making record quantities of a variety of jams and chutneys, using produce from the garden. In early September we processed some of the apples from our own trees and donated fruit to produce sixty bottles of apple juice. Many thanks to those people who brought apples for juicing. We'll have another session later in the autumn.
The herbaceous borders are looking good: lots of colour with asters, penstemons, dahlias, begonias and zinnias, which should last well into October. With the autumn fast approaching, we are now looking towards cutting back perennials that have finished flowering and reducing overgrown clumps.
For those of you looking to renovate borders or starting new gardens, please do have a look at our stock of plants for sale. There is always a wide choice of planting material available – have a look, you might well find what you need for that gap or replacement, or to introduce something new. This year, we also have two-year old semi-standard 'Mary Challis' apple trees for sale. These are unique to our garden and can't be purchased elsewhere. A cross between Cox's Orange Pippin and Dr Harvey (an old English cooking apple), it has been accepted as a unique variety and listed on the Register of Local Cultivars. It produces large apples, with very good cooking properties but sweet enough to be eaten raw. If you are interested, please contact us to reserve a tree.
We also have two-year-old golden rain trees Koelreuteria paniculata for sale. Also known as Pride of India, these are handsome trees, up to 10m tall, that produce striking pinkish-red foliage in spring and masses of yellow blooms in June–July that develop into bladder-like seed capsules in the autumn. A great specimen if you have the space, though the size can be controlled by pruning.
We would like to acknowledge and thank the Royal British Legion for a generous donation, sourced from the Central Co-op, for which we are very grateful. This has been used to purchase a much-needed log-splitter and some ornaments for our 'chicken shed' exhibit.
The Challis House and Museum remains closed for the foreseeable future and is unlikely to open again until next year. However, a visit to the library and archives for research purposes can be booked by appointment.
Mike Redshaw
Published in Sawston Scene, October–November 2020 – see page 17 for a feature on groups meeting in the Challis Garden.