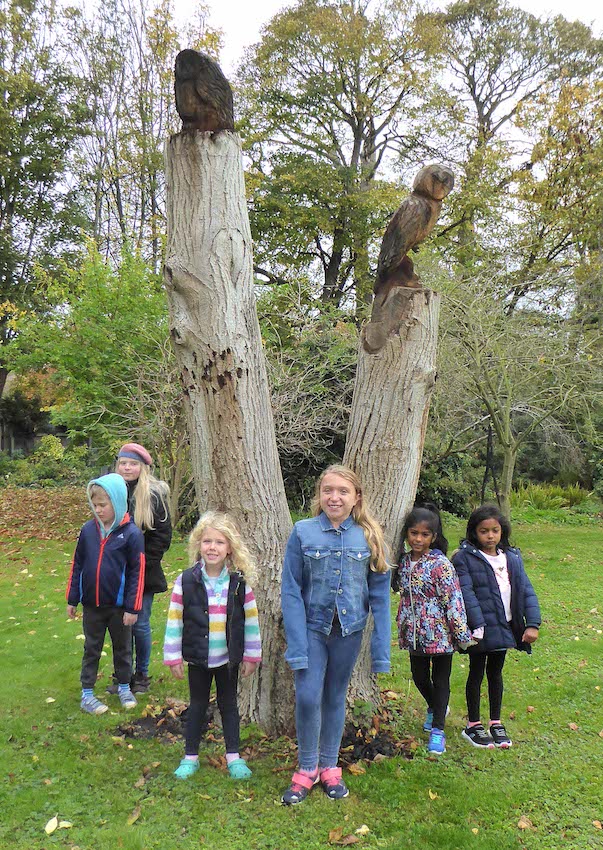 At the time of writing this, in the second lockdown, we are grateful that the government has allowed green spaces, such as our garden, to remain open to the public for exercise and recreation. All organised meetings and gatherings, of course, are not allowed and the house and museum remain closed.
The beneficial value of green spaces for mental and physical well-being is now widely recognised, and has certainly been brought into the public domain by the Covid-19 pandemic. Many organisations, such as the National Garden Scheme and the National Trust, are actively promoting the importance of getting out in the natural world and encouraging us to visit parks and gardens. Green spaces such as the Challis Garden have never been as important as they are now. We are very pleased to welcome visitors to relax and enjoy this wonderful safe and peaceful place. There is always something new to see and people to chat to. Do drop by for a walk around the garden or to simply sit and relax.
The Royal British Legion installed a stunning poppy display for this year's Armistice commemoration, which attracted lots of compliments and attention. Well done to the many ladies who made good use of the extra time at home to crochet poppies. The result was a spectacular 'torrent' of poppies spilling down the front of the Challis House. The Challis Trust is honoured to host this annual display and we look forward to seeing next year's creation – but it will prove a hard act to follow!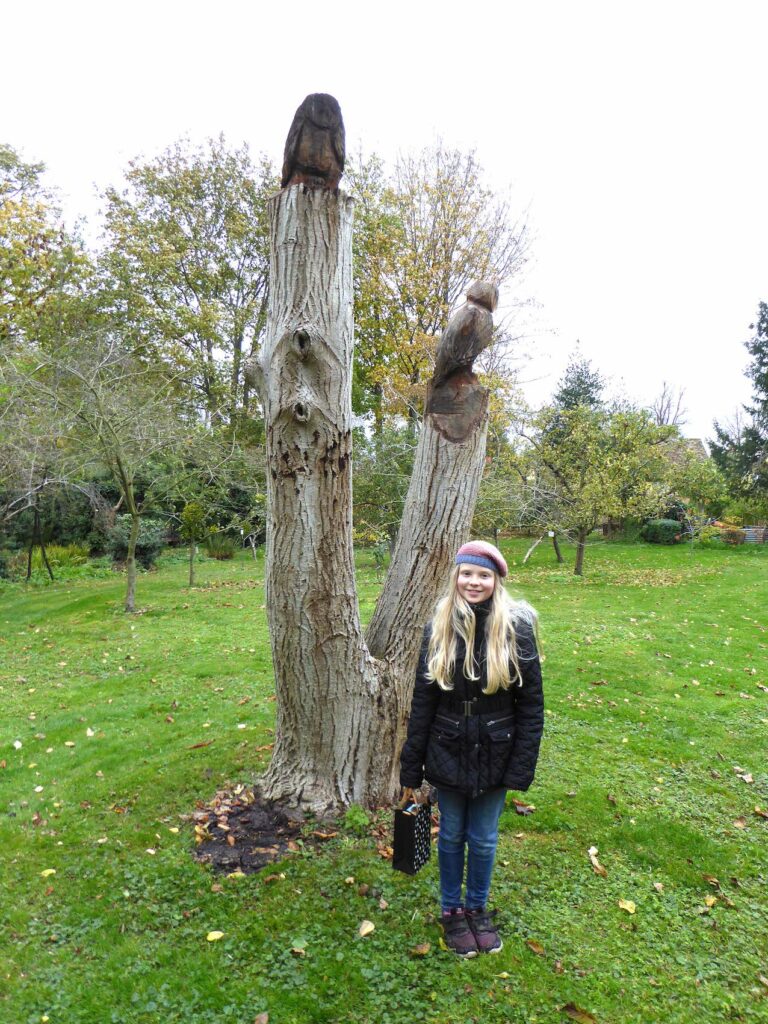 The two owls carved from an old walnut tree have proved very popular with visitors and volunteers alike, and are now a key feature of the garden. Our 'Name the Owls' competition was very well supported, attracting over a hundred entries – a fantastic response. Thanks to all who entered. It was hard to choose a shortlist of five entries to go forward to a public vote, but there were a few obvious ones that appealed to the judges and a few quirky ones to throw into the mix. In the event, there was a very clear favourite, using clever puns to produce two familiar names – 'Victawnia' and 'Owlbert', suggested by Phoebe Marsh. Many congratulations to her for these endearing names. The runner-up was Alena Neesam for 'Ozzy' and 'Barney'. Now that our owls have names, we hope they will live up to them and reign over the garden for many years to come.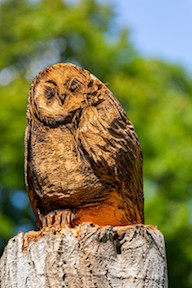 We have had a very successful fruit harvest this year, but this has now come to an end, with the last of the Bramley apples. Much of the produce was used to make an impressive range of jams, chutneys and jellies. Many thanks again to Andy Jackson for his culinary skills! A lot of the apples were processed to make apple juice, mixing donated apples with our own. Three sessions produced a very creditable 178 bottles, far more than previous years. Each batch is different, depending on the mix of apples available at the time, but mostly Spartan, Cox's Orange Pippin, Bramley and Lane's Prince Albert. The mild weather and regular rainfall in late summer and autumn resulted in ripe, juicy apples ideal for juicing. 2020 appears to be a good vintage!
The mild weather through October and November has allowed people to get out and about, with many more people than usual visiting the Garden. The autumn colours persist here and there, but the strong winds in early November stripped most of the leaves off the trees. The main herbaceous beds, however, are still colourful, well into November, unaffected as yet by early frosts. Bulbs are already pushing through so it won't be long before we have snowdrops, aconites and crocuses showing.
There is still lots of work for the gardening team. Shrubs and herbaceous perennials have put on a lot of growth this year: now is the time to lift, divide and replant. There are large amounts of compost and leaf mould to apply to feed the plants over the coming season. Large shrubs and trees need pruning and shaping. Lots to do, but we are blessed with a large team of enthusiastic volunteers. Thanks as ever for everything they do to make the Challis Garden such a wonderful place and asset for the village.
Finally, we are delighted to have new tenants in our little shop, which has been vacant since 'Shop For Your Community' left in 2019. Our builders and decorator have fully restored and updated the property inside and out to make it fully compliant with current regulations for lettings. We wish Chris and Kelly every success in their new venture 'Green Weigh', selling sustainably and ethically sourced food and household products, with the aim to minimise single-use packaging. Very best of luck! Mike Redshaw
Published in Sawston Scene, December 2020–January 2021
Read More