We were delighted to be able to hold our Spooky Saturday event this year on Saturday 30th October. Despite the wet start, the weather improved during the morning into a lovely autumn day. Judging by the number of visitors, this is very popular with Sawston families. It was wonderful to see so many happy faces and colourful Hallowe'en costumes. Well done to everyone for entering into the spirit of the occasion. All the activities were well attended, especially the do-it-yourself face-painting. Mums and dads impressed us with their painting skills and evident enthusiasm! We loved all the photos and complimentary posts on Facebook.
The homemade cakes and Andy's soups were fully consumed, and all the pumpkins carved. Many thanks, as ever, to our wonderful team of volunteers and helpers, without whom we would not be able to stage such events. Special thanks to Chris Baker for donating an impressively large – and characterful! – pumpkin to display and for bringing colleagues along to help prepare the pumpkins. "When shall we three meet again…?" – well, how about Saturday 29th October 2022?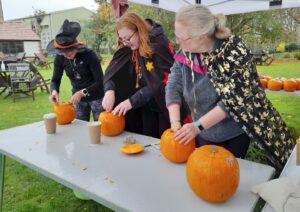 Visitors will have noticed the steady progress on the new garden building. Weather permitting, we hope the roof will be in place well before winter really sets in. For the time being, we need to keep the main garden gate closed due to building work, so please continue to use the side entrance on the left-hand side of the car park. Apologies for any inconvenience caused.
The Challis House and museum remain closed at the moment but new exhibitions are being planned. The archive team are still at work filing, cataloguing and sorting through the large collection of artefacts. One of the functions of the new garden building is to house some of the large collection of Challis artefacts recently donated by the Moulton family; Mary Challis's mother was a Moulton. We are very grateful to them for donating this material.
The herbaceous perennial beds in the garden are still surprisingly colourful, though some tender plants were caught by the first frosts in early November. Autumn-flowering pink nerines (Guernsey lily) have been particular good this year. If the current mild weather continues, colour will last for a few weeks more. Summer bedding plants have now been replaced with winter-flowering pansies and wallflowers.
Although it is now well into autumn, there is limited autumn colour this year as a result of the protracted mild weather. However, some species are beginning to show marked changes in leaf colour, notably acers, dogwoods, ornamental ivy, sumach (Rhus spp.) (spp meaning 'species, so more than one type) and Berberis spp. Autumn highlights in the Garden include our lovely ginkgo tree, Nandina (heavenly bamboo), cotoneasters and Amelanchier (juneberry). There is an impressive display of red fruit on the yew tree along the path into the garden.
Although winter is now upon us, there are many things to look forward to in our gardens. The first signs of spring bulbs emerging from the soil can already be seen. There should soon be snowdrops, aconites and crocuses to cheer us up. We can also enjoy the wonderful fragrance of wintering-flowering shrubs, such as shrub honeysuckles, Mahonia spp., Christmas box (Sarcococca confusa) and witch hazels (Hamamelis spp.). The winter/spring border will be at its best in the New Year, punctuated with clumps of red, green, yellow and multi-coloured dogwoods (Cornus spp.). Do come and have a look on a bright winter or spring day to enjoy the sights and smells.
The traditional winter and Christmas favourites of holly, ivy and mistletoe look great this year, with lots of berries. If you need any materials for wreath-making, do come and ask us for some.
Thanks to our dedicated team of volunteers, work in the garden is well up to date. The main tasks for the coming period are to apply leaf mould and compost to the herbaceous beds, gather leaves and carry out winter pruning. Regular seasonal attention is needed to keep on top of vigorous herbaceous perennials that can be invasive if left alone. So lots of digging up, splitting and cutting back to do. Andy Jackson has been busy in the raised vegetable beds, planting broad beans and giant garlic. There are always plenty of jobs to occupy us.
Please remember that the garden remains open, as usual, throughout winter. Opening times are in the Directory and on our website. Do have a look at our Challis gifts for possible Christmas presents: notelets, tea towels, preserves, miniature and old bottles, woodturned articles, honey and plants. And there are always logs available for some winter warmth!
Mike Redshaw
Read More