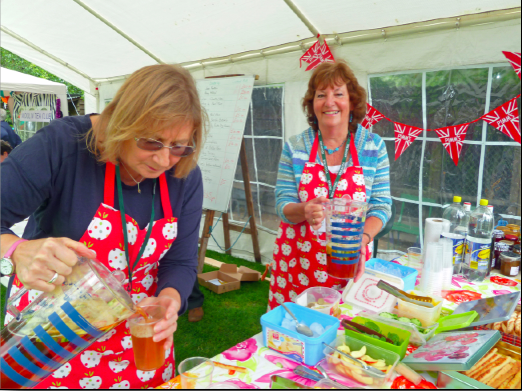 It was great to see so many visitors to the Challis House during the village Winter Fair event on 11th December. Mulled wine and fruit punch were flowing and the mince pies sold like – well – hot cakes! Craft group and home-made produce stalls were also very popular. Thanks to everyone for making the evening such a resounding success.
We are pleased to announce our garden events for 2016 (see page 2 of this issue). There are six scheduled events spread over the year, including an afternoon garden opening on 12th June for the National Garden Scheme. Our next event is the Children's Easter Activity Morning on Saturday 26th March, which has proved very popular in past years. All the usual activities: treasure hunts, face painting, pond dipping, and Easter-themed crafts and decorations. Plus soup, teas and coffees for the grown-ups. For any more details about events, contact Sheila Blackwell on 01440 707322 or events@challistrust.org.uk, or check our Facebook page or website www.challistrust.org.uk.
THE GARDENWinter work continues in the garden in preparation for the coming season, under the guidance of our head gardener Ray. We are busy cleaning up and mulching the herbaceous beds, removing leaves and pruning fruit trees and shrubs. We plan to accelerate the removal of the remaining sycamore trees that are shading out parts of the garden. These areas will then be planted up with suitable shrubs and evergreens to add interest and diversity to the garden.
There are already good displays of aconites and snowdrops (it looks like being a very early Spring!). This will be followed by crocuses, daffodils and tulips in February and March, so do come along and enjoy them. Garden opening times are Tuesday, Thursday, Saturday 10am to noon; the Sunday winter opening time is 1pm to 3pm until 6th March. If you would like to help in the garden, please come and talk to us or contact Ray Reeve on 01223 834986. We'll be pleased to see you.
CHALLIS MUSEUM
The Trust is very keen to put together the next exhibition, 'Back to School' pending completion of interior repairs and decorating, which is taking much longer than anticipated. If you have any local educational artefacts you could loan to the Challis Trust to display in this exhibition, we would be pleased to hear from you. Please contact our Chair Rosie Phillips on 560816 or chair@challistrust.org.uk for more details.
Mike Redshaw
Published in Sawston Scene, February–March 2016 issue