Our open garden event on 12th June was again very well supported, raising £425 for the National Gardens Scheme. The well-stocked plant stall proved very popular, not to mention the teas and home-made cakes. Many thanks to all our volunteers for helping out on the day, and to the many visitors that came.
The next major event in our garden calendar is the Challis Horticultural Show on Saturday 3rd September. Tea and cakes, Pimm's tent, plant sales, live jazz and a silent auction – what's not to like! The show itself is open to residents of Sawston and its neighbourhood, so we would welcome entries from othe
r villages, as well as Sawstonians. Exhibits are judged in the morning, then open to view in the afternoon. Entry forms are available from the Challis Garden summerhouse or from 54 High Street, or from our website at www.challistrust.org.uk/show. Good luck to all entrants! Please note that the date for the show was given as 4th September on the Challis printed calendar, but it IS on the 3rd: this is always a Saturday event. Our apologies for this.
The herbaceous beds are very colourful at present, partly due to the cooler, wetter conditions this 'summer', and should show well into September. Bedding plants raised in the garden – cosmos, begonias, zinnias – are planted to extend colour into late summer and autumn. The wildflower meadow and bee border are beginning to peak now. Good for the bees and other pollinators. Vegetables are growing very well this year without any watering. We expect good crops of potatoes, beans, beetroot and courgettes. As well as this fresh produce, jams, chutneys, relishes and honey are available from the garden. Do drop in to see what's on offer.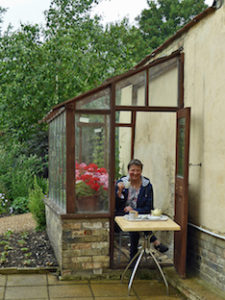 The wilder parts of the garden are alive with birds at present. Family groups of blackcaps, goldcrests, goldfinches, great tits, blue tits and coal tits can be seen foraging in the t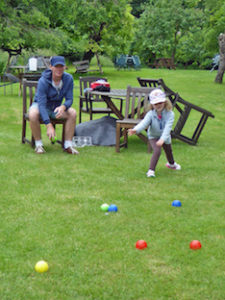 rees. A local sparrowhawk uses a regular 'plucking post' in the garden, no doubt attracted by the many small birds. And swifts are nesting in the buildings on the High Street.
Our builders Ray and Graham are making good progress on refurbishment of the old pigsties, with concrete floors laid and repairs made to the flint and brick boundary wall. We hope this work will be completed by September.
In addition to a standard 'National' beehive, the new Flow Hive (from Australia) is now up and running, with a colony donated by our local beekeeper Richard Steel. It is rather late in the season, but with a good nectar flow, there may be surplus honey to extract at the end of summer. For any further information about the Challis Trust, See page 26 for details of how to contact us.
Mike Redshaw
Published in Sawston Scene, August–September 2016