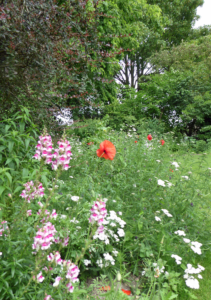 June and July proved to be very busy times for the Challis Trust, with two garden events in June, the opening of our third exhibition 'Back to School' and numerous booked visits to the garden. A good number of people have been to see the exhibition already, often repeat visits, to take in all the displays and scrutinise the photographs. Some visitors have helped to fill in a few blanks by identifying people on some old photos – many thanks. We have even acquired a few magnifying glasses to help with this! The exhibition will run through the summer during normal opening hours, provided there are enough stewards. More volunteers needed please. And it's not too late to bring along any relevant material to add to the exhibit.
The Challis Garden opened again this year, on Sunday 11th June, in support of the National Gardens Scheme. Although visitor numbers were down on previous years, £401 was raised, to help fund nursing and caring charities. Many thanks to all who came.
The garden hosted the Great Get Together Event on the following Sunday (18th June) in honour and memory of Jo Cox MP, who very sadly lost her life a year ago in 2016. It seemed very pertinent, so soon after the terrible events in Manchester and London. More than sixty people enjoyed a picnic and played games with friends and family. We hope that more people will join us next year.
September is ShowTime, with the annual Horticultural Show coming up on Saturday 2nd September. Other attractions on the day are a beekeeping stand, Pimm's tent, giant games, tombola, morsbags, plant sales and, of course, tea and cakes. We are particularly keen to get more entries from other villages, and especially from children (seven years old and under, and eight to twelve). If you grow produce, bake, make jam, arrange flowers, make handicrafts or take photos, then there is a class for you. Do have a go and enter something. Entries are judged in the morning, then open to view in the afternoon. Entry forms are available from the Challis Garden summerhouse or from 54 High Street, or can be downloaded from our website. Good luck!
The weather has not been kind this year for gardeners. We've seen everything: long dry spells in spring, late frosts, a heatwave in early June and torrential rain in late June. Plants that did establish well early on suffered in the high temperatures in June. The intense rain and high winds at the end of June badly damaged later-growing plants with lush foliage. We have lost several established shrubs this year: some, I am sure, succumbed to honey fungus, which was prevalent last autumn. Not just shrubs – have you noticed the dead horse chestnut tree next to the Mica store?
Despite all this, the gardeners have done a commendable job to prepare the herbaceous beds for the summer. We've had to do much more watering than usual. If these weather conditions become the norm, we may have to install a drip irrigation system. The bedding plants raised in the garden help to fill gaps and extend the flowering period, especially the cosmos, begonias, dahlias and zinnias that all do well here. Thanks to the gardening team for all their hard work.
One of our prize trees, a Cornus mas, came down in the June storms and had to be severely cut back. It is vigorous and should regenerate well. A bad blow for the tree, but good news for a local woodturner, who uses pieces of unusual timber from the garden and turns them into the most beautiful objects. I hope he will come along and display these at one of the events next year.
The garden is home to a lot of native wildlife, which we are very proud of. The Bioblitz event in May recorded twenty-nine bird species, eleven moth, three butterfly, four bee, three vertebrate and ninety-five plant species! I expect a lot more species of moths, butterflies and bees would have been recorded if the exercise was held in mid-summer. Our moth-trapper Andrew did another session in June, recording thirty-five species, including a stunning elephant hawk moth (see the photos on page 47). Garden bumblebees are nesting under the summerhouse. The treecreepers that have been around since last year successfully bred amongst dead ivy stems on the trunk of a large lime tree. Some good news to end with! Mike Redshaw