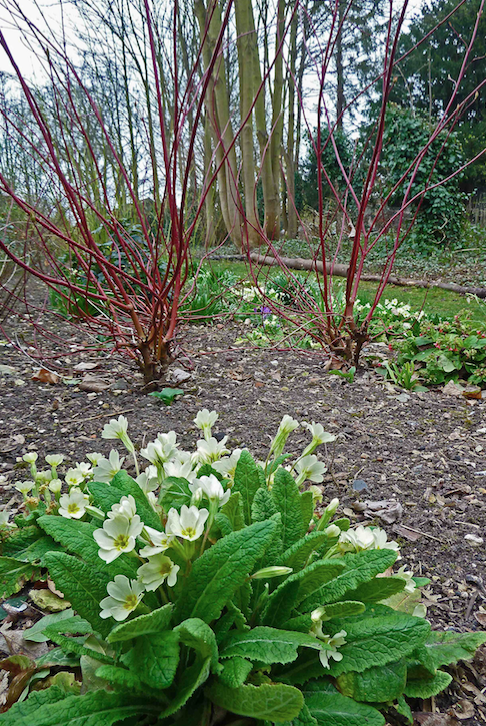 First of all, a big thank you to everyone who came to the garden on Saturday 26th March for our Easter Activity morning. And an equally big thank you also to our volunteers for getting the garden ready, providing teas and helping with activities. Our events would not run without such great support. I am writing this in advance of the event, so I trust that everything went smoothly as planned!
Our next garden event is the Anniversary Fete on Sunday 15th May from 2pm. We will be providing teas, home-made cakes, soups and more from the kitchen. There will be live music from Sawston Steel Band and a host of different activities to suit all ages. Do come along and enjoy the event and the garden. Entry free; donations welcomed. For more information, contact us.
THE GARDEN
The garden team has been busy cutting back and tidying up and preparing for the spring and summer seasons. Visitors will notice that several more sycamore trees have been removed along the north side of the garden, letting much more light in. Suitable ground cover and shade-tolerant shrubs will be planted in these areas to augment the current plantings.
We now have a large stock of split sycamore logs for sale, suitable for storing for next winter. If you need any, please come to the garden during regular opening hours: Tuesday, Thursday, Saturday 10am to noon, or Sunday: our Sunday opening times changed to 2pm to 4pm, from the second Sunday in March.
Our Spring/Winter Walk is becoming well established now, with good shows of early spring bulbs (crocuses, snowdrops and iris reticulata) contrasting with the bright red, green and orange stems of the dogwoods, Cornus spp. The winter-flowering shrubs have produced wonderful fragrance through February and March, the best of these being sweet box (Sarcococca confusa) and the shrub honeysuckle Lonicera fragrantissima – still well worth a visit. Snowdrops and crocuses are largely over, but daffodils should show well into April.
Our beekeeper Richard hopes to move his hives from their current location in the far corner of the garden to the permanent apiary site, as soon as building work on the adjacent industrial site has been completed and the boundary fences re-instated. Honey from our hives is available for sale (£5 for a 1lb jar) in the garden year-round. Have you tried some?
THE HOUSE
External work on the house has now been completed with the refurbishment of the windows at the front. This is a huge improvement to the front aspect of the house and the 'street view'. Inside there is still much to do, with ongoing work concentrating on installing services to the first and second floors. Until the building work has been finished, all house and museum activities are on hold for the time being. But watch this space…
For more information check our Facebook page, www.facebook.com/challisgarden, or website www.challistrust.org.uk, or contact Rosie Phillips: chair@challistrust.org.uk or 560816.
Mike Redshaw
Published in Sawston Scene, April–May 2016 issue