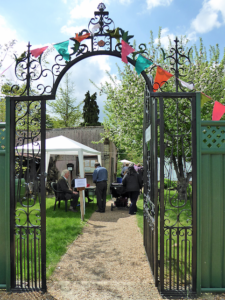 The Challis house and garden are becoming increasingly popular for visiting groups. We have welcomed several groups already this year, with more bookings for the summer period. It is very heartening to see the house and garden used for their intended purpose.
Our next event – for your diaries – is a garden opening for the NGS (National Gardens Scheme) on Sunday 12th June from 2pm to 5pm. The NGS raises about £2.5 million annually to support several major charities, including Macmillan Cancer Support, Marie Curie, Hospice UK and Carers Trust among others. We are very proud to participate for this cause. Entry is £3 per adult; children are free. Plants for sale. Homemade cakes and teas served, as usual, by our excellent catering team MC Teas. Do come along and support us. For more information, contact events@challistrust.org.uk.
Spring is now behind us and the garden team are busy keeping up with weeding and mowing, planting up the vegetable beds and raising bedding plants. There is plenty of colour as the early summer perennials and shrubs come into flower. The herbaceous beds, bee border and wildlife meadow will be at their best from June to August.
Plums and damsons are showing good fruit-set so appear to have escaped the sharp late frosts at the end of April. Most of our apples are flowering well; we anticipate good crops again this year. Several of our apple trees, however, are of unknown origin. We hope to identify the varieties by sending tissue samples for DNA fingerprinting to the East Malling Research Centre in Kent. Leaf samples will be collected in June. Nice to know what you are eating!
Horse chestnut trees are in full bloom at the time of writing – what a wonderful sight! In the coming months, some of our specimen trees come into bloom, often spectacularly. In June look out for frothy white and cream flowers on the black locust trees Robinia pseudoacacia and Kentucky yellowwood Cladrastis kentukea – both leguminous species from North America. In July, the yellow panicles of golden rain tree Koelreuteria paniculata (from eastern Asia) are equally impressive. Lots to look forward to.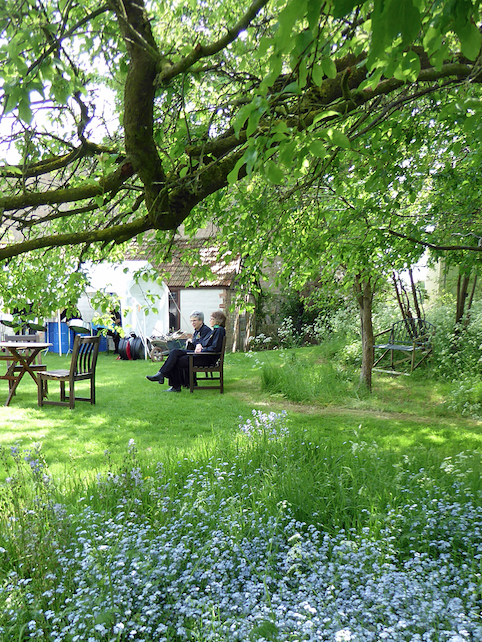 There is always plenty of wildlife to see in the garden. Newts in the pond, butterflies and bees in the borders, many birds, including nesting wrens, collared dove, goldcrest and blackcap. Hedgehogs are present, though rarely seen. In mid-May, a fox and two cubs were spotted in the far corner, most likely the same vixen that appears every year to produce a litter. Luckily no moles, rabbits or badgers, which would not be welcome.
Work has started to refurbish the old pigsties in the garden to create a potting shed and additional storage space [pictured left]. This will hopefully be completed in the summer months.
We are very pleased to report that we have been given two new beehives for the garden, by a generous benefactor. These are not conventional hives, but novel Flow-Hives, invented in Australia. Honey is extracted directly by turning a tap rather than having to centrifuge the honey from the combs. They clearly work well in the hotter climate down under but there is little experience of them yet in this country: we are delighted to be one of the first to try them. We plan to set them up in June once the oilseed rape has finished flowering, to avoid potential problems with honey crystallising in the combs. Interested readers can learn more by searching for 'flow hive full reveal' on YouTube.
For more information, see www.challistrust.org.uk or check our challisgarden Facebook page.
Mike Redshaw
Published in Sawston Scene, June–July 2016 issue