A busy month coming up in the garden with three events on successive Sundays in June. Please note that the normal opening times will not apply on these days. First up is the Open Garden event on Sunday 13th June in support of the wonderful National Garden Scheme (NGS), which has raised money for nursing and healthcare charities since 1927. The total to date has exceeded £60 million, with around £3 million donated annually in recent years – a fantastic achievement. Due to the pandemic, most private gardens could not open last year so we are very pleased to be able to continue our commitment to the scheme again in 2021. The garden will be open from 1pm to 5 pm. Admission is £3 per adult (free for children). Plants will be on sale on the day, with a proportion of the takings going to the NGS.
On Sunday 20th June, we are delighted to be hosting our first open-air theatre performance. This features Shakespeare's Twelfth Night by the Half Cut Theatre Company. This is a new theatre group, based in London, set up last year in response to the closure of theatres due to the Covid crisis. One of the founding members is a Duxford lad, James Camp, who attended SVC – hence the interest in bringing the play to Sawston. They will give two performances at 2pm and 5pm. Please book online at www.halfcuttheatre.co.uk or call 07892 854658. There is no pre-payment required but a 'Pay What You Decide' contribution after the performance.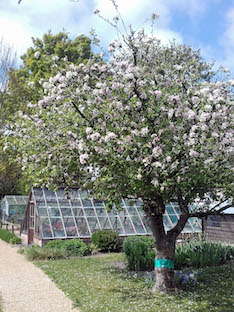 Gates will open one hour before each performance so there is time to relax and have a picnic or snacks before the play starts, and you can visit our Pimm's tent for a selection of refreshing drinks. It promises to be an entertaining afternoon. If possible, please bring your own seats and blankets as there are a limited number available on site. There is a lot of interest in this event, so do book your place early!
The company is returning in August to perform Treasure Island – more details about this in the next issue.
Our postponed Anniversary Fete will be held on Sunday 27th June from 2pm to 4.30pm. It is hoped all our usual groups and attractions can attend to entertain and educate us. This year we propose to have a Kid's Zone hosting a range of activities, which we hope makes up partly for the cancelled children's events over the past year. Look out for posters in the village and on our Facebook page. As usual, M C Teas will serve tea and cakes from the house.
Passers-by will have noticed scaffolding at the front of the house at 68 High Street in recent weeks. This is for essential maintenance work on guttering, fascias and soffits, re-pointing brickwork and re-coating the external walls. The opportunity will also be taken to install a swift nestbox at the front. Apparently, swifts used to nest at the front but nesting sites were blocked off during renovation work. Two tubular nestboxes were fitted to the south-facing wall as replacements but they do not appear to have been used regularly. In recent years, the swifts have been nesting at the rear of the properties. It will be interesting to see how soon the new boxes are occupied. Swifts return here in mid-May and quickly start to seek out nest sites. Hopefully the new boxes will be in place in good time. Like most wildlife nowadays, swifts need as much help as we can give them. Let's wait and see!
Despite inclement weather – cold spells, a very dry April and late frosts – the garden volunteers have been busy preparing the herbaceous beds for the summer, tidying up the winter/spring border, raising bedding plants, trimming and mowing. If the weather – finally – comes good in the coming weeks, we can look forward to lots of colourful displays through to autumn. Look out for the stunning displays on false acacia and golden rain trees from late June to early July.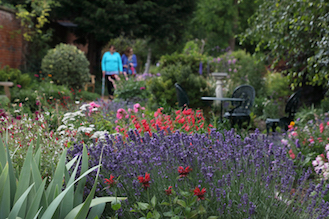 We have re-organised the plant nursery area and gift stand, putting material for sale on stands, with clear labelling and pricing. This is a much-needed improvement. We hope you like it.
Are you aware there is a unique apple variety in our garden? The large tree at the main entrance has been identified as a cross between Dr Harvey (one of the earliest English culinary apple varieties) and Cox's Orange Pippin. This cross is not on the national register of English apples and hence has been accepted as a new variety 'Mary Challis' and listed in the Register of Local Cultivars. We have raised new trees by grafting, which are now available as two-year old semi-standard trees. If you are interested in planting a Mary Challis apple, please talk to one of the garden team. It produces medium-large apples, with good cooking and eating properties that store well through to Christmas time.
Mike Redshaw
Printed in the June–July 2021 issue of Sawston Scene