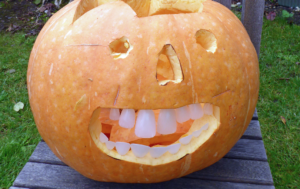 Our Children's Halloween Activity morning on 31st October was an outstanding success. We thank everyone who came to carve pumpkins (we had to send out for more). There was a long queue for the beautiful face painting and the Crafty Barn was a hum of children trying something spookily new. Apple bobbing went down well, mostly down the children's jumpers, and the scavenger hunt was very popular. The children who decorated biscuits in the house were very inventive. Most were eaten (not the children) before they left the garden.
Grown-ups and children alike enjoyed Andy's pumpkin soup, homemade cheese scones, teas, coffees and squashes and all those spookily iced cakes. In fact we ran out of everything except teas and coffees! We have never seen such an excited crowd at one of our children's events – the best yet.
We would like to thank all the volunteers who were serving, on kitchen duties, demonstrating, overseeing and helping in general with all the activities. You are all so valued and the directors are very appreciative of all the work you put into these events.
The Challis Garden is being cultivated and planted up for winter and spring blossoming. Please contact Ray Reeve, Head Gardener, on 01223 834986 if you would like to help. We have been lucky to have the help of Sawston Village College students who have learning and helping for their Duke of Edinburgh awards. The garden opening times are Tuesday, Thursday, Saturday 10am to noon, and Sunday winter opening is 1pm to 3pm.
The Craft Group is still going from strength to strength. You will have your chance to buy the beautiful crafted gifts they have produced along with pickles, chutneys and preserves when the Challis House opens for the Winter Fair on Friday 11th December. Mulled wine, fruit punch and mince pies will also be available.
Our beautiful 2016 Challis Trust calendar is now for sale from the summerhouse on opening days. Priced at £6, it will also be on sale at the Winter Fair.
The next exhibition at the Challis Museum will be called 'Back to School' – dates to come. The exhibition cannot yet be put in hand as work is still being carried out on the first floor. We would like to request local educational artefacts of all sorts for display to be on loan for this exhibition. Please contact our Chair Rosie Phillips on 560816 or chair@challistrust.org.uk for more details. Keep up with us on our Facebook page at www.facebook.com/challisgarden or go to www.challistrust.org.uk to see our new website.
Sheila Blackwell
Published in Sawston Scene, December 2015–January 2016 issue