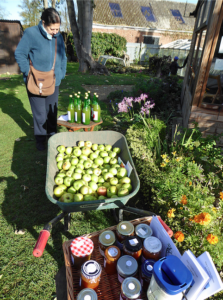 There has been plenty to enjoy in the garden in recent weeks, with good autumn colours developing on trees and shrubs, and some perennials and bedding plants persisting well into November. However, the first frosts in late October put paid to the most sensitive plants, notably dahlias, nasturtiums and begonias.
The garden team are busy now tidying up the herbaceous beds in preparation for next year – lots of weeding, pruning, dividing and mulching to be done. Leaves are now dropping regularly; most of these are picked up by our sit-on mower and collected in two large wire 'cages' to produce leaf mould for next year. We have just had our annual bonfire, close to Guy Fawkes Night, to burn non-compostable material collected over the course of the year.
We could still use some more help in the garden. If you have spare time on Tuesday, Thursday or Saturday mornings, you are very welcome to join our garden team and help with a range of tasks.
Our vegetable beds and fruit trees performed well, considering the rather extreme weather this year. The last of the apples and summer vegetables have been picked and sold or processed into jams, chutneys and relishes. Our thanks to Andy Jackson for keeping us supplied with a range of preserves throughout the year. His courgette relish is always in demand!
Our bees have not been so active this year, with just one hive coming through the harsh winter and spring weather. Although they appeared active through the hot, dry period, there was clearly not much nectar available, and so did not build up adequate honey stores during the main season. However, they were very active in September and October, bringing in lots of ivy nectar and pollen, so there may be a small surplus of honey to extract.
The garden hosted two very successful events in October. The Apple Day was well attended, blessed with some good autumn sunshine. Large quantities of apples were processed into juice, with has proved very popular with visitors. There are still a few bottles left if you haven't tried some yet! Thanks to everyone who brought their apples along and to the volunteers for helping out on the day. The event was perhaps a little late in the season for the main crop of dessert apples. It is planned to hold it earlier next year, which should produce a greater mix of varieties for juicing. The generous grants from SCDC's Community Chest and Cambridge University Rag Appeal to purchase the equipment are gratefully acknowledged.
Our popular Spooky Saturday was again very well attended, with plenty of activities to entertain lots of children on a rather cold morning. Some very impressive pumpkin-carving and face-painting was on show! Thanks again to all the visitors and volunteers for making this event so successful.
The Christmas wreath-making workshop will be held on Saturday 1st December in the Long Barn in the garden. Tuition will be given and all materials provided, plus mulled wine and mince pies. What's not to like! Book a place to make your own wreaths. Details are in the Diary and on posters in the High Street.
Our museum volunteers are making good progress sorting and archiving the large volume of material in the house. Additional material is still coming in, with a batch from the Parish Church archives, mostly accounts and invoices. The two storage rooms on the second floor are almost full and attention is now being given to sorting out their contents. A number of photographs, paintings and posters in the collection have been re-framed. Some of these will be hung in the permanent exhibition rooms to refresh the wall displays.
Building work along the passage to the car park continues, effecting necessary repairs to the exterior walls, windows and rainwater goods in the adjoining property. Scaffolding will remain in place until work is completed, but this does not impede access for visitors to the garden or museum. Parking is available to the rear of Tucker Gardner for the time being.
Visitors will see that the 'infamous' Pink Shed has now been demolished, as it had become hazardous. This will be replaced by a new building to house a garden museum and shop. This is a very exciting project for us, made possible by a generous anonymous donation. It is planned to start work on the new building in the New Year. Mike Redshaw
Published in December 2018–January 2019 Sawston Scene