These are the details from 2019 so you can start to prepare – they will be updated later in 2021.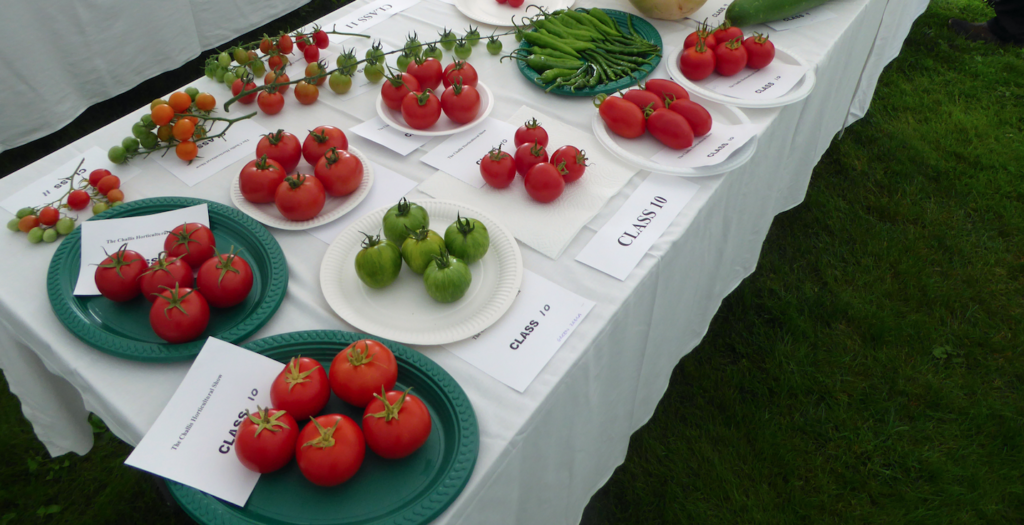 Staging of exhibits 9am to 11.45am, judging 11am, gates open 2pm. Presentation of trophies at 3.30pm, followed immediately by an auction of exhibits. Admission: £1 for adults including exhibitors. Children free.
Open to all.
No fees to enter classes.
Open classes (excluding children's classes) are limited to two entries per exhibitor in any class, but only one will be considered for a first, second or third place.
All entries must be made on an official form and returned by Thursday 2nd September to the Challis Garden or to 68 High Street, Sawston. Late entries will not be accepted.
Entries that have previously been in the show will not be accepted.
Three points to be awarded to the winner in each class, two to the second and one to the third.
No exhibit to be removed before 4pm.
All trophies must be left for engraving.
Trophies
The Garden News Trophy for the best exhibit in Classes 1 – 21
The Trustees' Trophy for the highest number of points in Classes 1-21
The Frank Matthews Trophy for the best exhibit in the Domestic Classes
The Mary Challis Trophy for the Best Floral exhibit
The Women's Institute Trophy for the best exhibit in the Handicraft Classes
The Sue Reeve Trophy for the best exhibit in classes for children aged 8 to 12
The John Falkner Trophy for the best exhibit in classes for children of 7 and under
The Chairman's Trophy for the family winning the highest number of points in the show
The Norman Carver Trophy for the best exhibit in the entire show
Classes
Vegetables and fruit
All entries must have been grown by the exhibitor
1. 5 white potatoes
2. 5 coloured potatoes
3. 5 onions with necks tied and 2 cms of root attached
4. 8 shallots with necks tied and 2 cms of root attached
5. 5 beetroots with necks cut at about 5 cms and roots attached
6. 5 runner beans
7. 5 French beans
8. 5 carrots with foliage trimmed
9. an exhibit of any other vegetable
10. 5 tomatoes with short stems
11. a truss of miniature tomatoes of any variety
12. 1 cucumber
13 1 head of lettuce
14. 5 cooking apples
15. 5 dessert apples
16. a dish of stone fruit
17. a dish of soft fruit
18. an exhibit of any other fruit
19. a vegetable marrow for weight
20. the longest runner bean
21. a presentation of herbs
Flowers
22. a miniature arrangement of flowers no taller or wider than 6 inches
23. a vase of annual flowers
24. 5 stems of flowers, any variety
25. a single rose bloom
26. a single bloom of any flower other than a rose
27. a green arrangement
28. a buttonhole or corsage for a wedding
29. a flowering pot plant
30. a foliage pot plant
Domestic
Jars for classes 31 to 34 should be clear 1lb jars with new lids, labelled with the type of preserve and full date of making, with no commercial labels attached.
31. 1 jar of jam made with soft fruit
32. 1 jar of jam made with stone fruit
33. 1 jar of marmalade
34. 1 jar of chutney or relish
35. 1 fruit cake – set recipe (below)
36. 1 decorated celebration sponge cake – any recipe
37. 3 fruit scones
38. 3 chocolate brownies
39. 3 cinnamon buns – set recipe (below)
40. a loaf of bread of any recipe or shape
41. a 1lb jar of clear honey
42. 3 eggs, any colour
Handicrafts
All entries must have been made within the last twelve months
43.            a hand-knitted garment
44.            a machine-knitted garment
45.            a crocheted item
46.            an item of decorative cross-stitch needlework
47.            any other hand-embroidered item (not cross-stitch)
48.            a home-made stuffed toy, knitted or crocheted
49.            a sewn garment
50.            a painting of any subject in watercolour, acrylic, pastel or oil
51.            a drawing, engraving or lithoprint, any subject
52.            a photo of close-up nature, up to 8 by 6 inches, not framed or mounted
53.            a photo of 'back together', up to 8 by 6 inches, not framed or mounted
54.            an article made of wood
Children's classes
In two groups:
7 years and under
8 to 12 years
55. a miniature garden on a plate
56. an animal made from fruit, vegetables, pins and matchsticks
57. an arrangement of flowers
58. 3 decorated biscuits
59. a piece of craftwork.
Please remember to make it clear if you don't want your entry to be auctioned.
Please address any queries regarding anything on the schedule to Mike Redshaw either by email mjredshaw@hotmail.co.uk or telephone 01223 834511.
THE 2021 CHALLIS HORTICULTURAL SHOW
Saturday 4th September 2021
NAME
ADDRESS
TELEPHONE NO.
CLASS(ES) ENTERED:
It is planned to hold an auction of exhibits at the end of the Show to raise money for the Challis Trust. If you do not want your entry to be included, please write 'not for sale' or 'NFS' beside each of the entries.
Please return to 68 High Street (Mary Challis House) or the Challis Garden by Thursday 2nd September and include age of child in children's classes.

Set recipes
Fruit Cake (class 35)
200g (8oz) SR flour
¼ tsp salt
100g (4oz) margarine
100g (4oz) caster sugar
2 eggs
225g (9oz) mixed fruit
1/8pint milk
Pre-heat oven to 180 C
Line bottom of an 18cm x 7 cm (7" x 3") round tin
Sieve flour & salt
Beat margarine until soft, add sugar, cream until light & fluffy
Add eggs one at a time with 1 tbsp flour, beating well between each addition; add milk and a little flour & beat well
Stir in fruit & remainder of flour
Put mixture in tin, bake for 1 hr 15 min approx., cover with greaseproof paper when sufficiently brown on top.
Cinnamon buns (class 39)
Plain flour (cook decides how much!)
3 tbsp granulated sugar
2¼ tsp (7g packet) quick yeast
125 ml water
65 ml milk
2 tbsp butter
1 egg
55g softened butter
2 tbsp ground cinnamon
50g (2oz) brown sugar
125g (5oz) icing sugar
1 tbsp lemon juice
1 tbsp water
Raisins or sultanas (optional)
Optional milk or egg for wash.
Grease or line a 10" dia or 9"x13" tin
Mix together flour, sugar & yeast in a large bowl
Warm milk, water & butter gently until butter melts
Stir liquid in to dry mix, add egg & knead well until no longer sticky; place in a greased bowl to rest for 5 mins.
Roll out dough to 15"x9" rectangle, spread with softened butter then sprinkle on sugar & cinnamon mixture. Add raisins or sultanas (optional). Roll up tightly and cut into 12 pieces.
Place in tin and cover with greased foil, put in warm place to rise for 20 mins.
Make glaze by combining icing sugar, water & lemon juice.
Remove cover, brush with milk or egg (optional). Bake in oven at 190 C for 15-20 mins until golden brown. Remove from oven, glaze, leave to cool in tin. Break apart to serve.
Read More